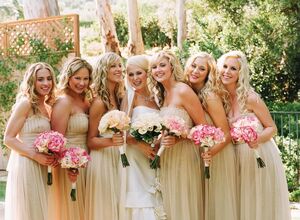 Did your bridesmaids look fantastic? If you think they did, add it to the gallery below- or, if you have any hilarious pictures, add them to the "wacky dress" gallery!
When choosing dresses for your bridesmaids, several things must be kept in mind:
Will this work with everyone's budget?
Will the dresses flatter everyone/make everyone happy?
Will the dresses fit in with my dress, and the theme of the wedding?
Sometimes it can be hard to arrange the bridesmaid dresses to satisfy all three of these requirements, but there are some basic things you should avoid:
Strapless/One-shoulder dresses (The vast majority of women feel they cannot pull off strapless dresses, especially if they are overweight or have large busts. If your bridal party is mostly skinny and small-chested, this could work, but otherwise, pass on it.)
Super frilly dresses (They aren't flattering, and if your bridesmaids have to pay for them, they won't be happy about it.)
Dresses they can never wear again (This isn't such a big deal, but most bridesmaids enjoy buying a dress that they will be able to wear at another point in time).
Dresses in colors that are unflattering on most skintones- including gray, yellow, light green, mint, and lavender. Make sure your bridal party is all satisfied with a uniform color before making the decision on your own.
Because often, bridal parties are made up of a diverse group of women, with different bodies, coloring, and tastes, sometimes brides choose to outfit their bridesmaids in dresses that share a similar theme, but are not identical. You could choose a color that everyone is satisfied with, and then ask your bridesmaids to choose whatever cut they like, in that color (there are websites for this), or on the reverse, you could choose a cut that flatters everyone, and let the girls choose their own colors. This will be fun, but it might not be very "matchy", especially if some of the girls choose similar, but not identical, colors.
Websites for Bridesmaid Dresses
Edit
Bridesmaid Dress Gallery
Edit
Wacky Bridesmaid Dress Gallery
Edit
Ad blocker interference detected!
Wikia is a free-to-use site that makes money from advertising. We have a modified experience for viewers using ad blockers

Wikia is not accessible if you've made further modifications. Remove the custom ad blocker rule(s) and the page will load as expected.