How many bridesmaids are too many?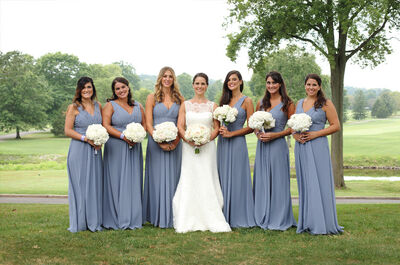 Typically, brides have 4-5 bridesmaids with them at the altar. Perhaps you have more than 5 close friends, so how do you choose? Do you even have to choose?
Here are some words of advice:
1. If you want to have ten bridesmaids, you should have ten bridesmaids. You might have to figure out how everyone can stand at the altar, but remember that it is your wedding and you should do what you want!
2. If you are intent on cutting down the number of bridesmaids, you can cut down the list by choosing only family members as your bridesmaids. Choose one friend from each of your friend groups (high school friends, work friends, college friends, etc...) 
3. if you have a large group of best friends, consider a rotation of bridesmaids for each other's weddings.
Ad blocker interference detected!
Wikia is a free-to-use site that makes money from advertising. We have a modified experience for viewers using ad blockers

Wikia is not accessible if you've made further modifications. Remove the custom ad blocker rule(s) and the page will load as expected.